Security & Privacy - Security Tools Programs at BlueSofts.com listed after program name
Browse Pages: 1 [2] [3] [4] [5] [6]
Order programs after downloads or name or date
1) .Net Licensing Pro 2.7
100% .NET solution for licensing .NET controls and applications.

---
2) 1-abc.net Password Organizer 1.00
1-abc

---
3)
1-Box Onsite(1) 3.0
---
4) 1000 Passwords Plus 1.0
Stores and creates passwords. Uses one to three separate storage areas

---
5) 1st Security Agent Pro 6.52
Professional password-protected security utility to secure Windows PC.

---
6) @KeyLogger Home 2.0.2
@KeyLogger Home helps you to monitor how your computer has been used while you are away, get know how your children use home computer or track employees'' work time activity

---
7) Abacre File Encryptor 1.0
Encrypt any files or folders using 39 advanced encryption algorithms

---
8) Absolute Password Protector 1.0.547
Absolute Password Protector offers a brand new level of security using strong encryption algorithms to encrypt your files

---
9) Access Administrator Pro 4.22
Protect your files and stop others from being able to start, see, change, delete

---
10) Access Workgroup Password Recovery 1.0a
Recovers lost or forgotten passwords for Microsoft Access workgroup files.

---
11) Ace ScreenSpy 5.0
This is an advanced video recording application to record the computer screen and save any screen activity that occurs as data to the hard drive

---
12) ACT Password Recovery 1.0c
Recovers lost or forgotten passwords for ACT! contact management files.

---
13) Active Watch 3.0
ActiveX monitor and controler

---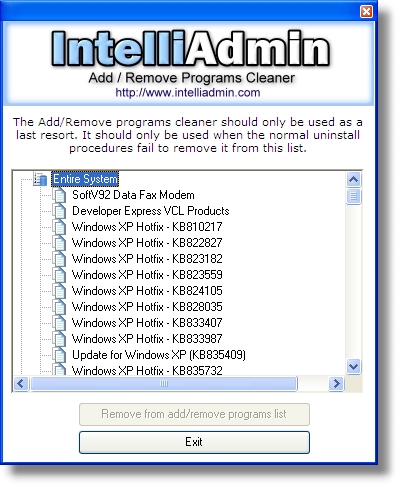 14) Add Remove Program Cleaner 2.0
Remove dead programs from add/remove list

---
15) Admit One R2684
Enable and disable all Windows access password prompts with just one mouse click

---

16) Advanced Encryption Package 2006 Professional 4.5.5
Military grade files encryption, AES, RSA, USB Flash support. 18 Wipe algs.

---
17) Advanced Internet Kiosk 2.81
Build Internet kiosks, public access PCs, or in-store terminals.

---
18) Advanced Netstat 1.0
Did you ever wonder what program opened that strange port that suddenly appeard in netstat ? Then Advanced Netstat is what you need ! Many trojans,backdoors,viruses and worms open ports on your system to allow an attacker to access your system

---
19) Advanced Office 95 Password Recovery 1.20
An utility to recover forgotten passwords to files/documents created in Microsoft Office 95 (and earlier versions): Word 2/6/7; Excel 4/5/7; Access 95; Schedule+

---
20) Advanced Privacy Protector 1.00
Advanced Privacy Protector is designed to clean up unwanted data history and Internet tracks on your computer thus giving you complete security and reliability

---
21) Advanced Process Manipulation 1.1
APM is an advanced process/module viewer and manipulation utility

---
22) Advanced Process Termination 2.1
APT is a powerful free utility that offers 10 process termination methods

---
23) Advanced Security Administrator 10.52
Protect your privacy and control access to your PC.

---
24) AES Password Manager 2.0
Full-featured password management solution for both home and corporate users

---
25) AliveMon 1.0 Beta
A network monitor that lets you know when your server or router fails.

---
26) AlphaWipe Tracks Cleaner 2006 2.1
Complete solution to protect your privacy, enhance your computer's performance.

---
27) AlteString 1.0
AlteString is a text converter that allows to alter given text via one of so called 'transformations'

---
28) Ana's CryptMate LE 1.0.7
An ideal utility to store encrypted images and other files and view them easily and securely

---
29) Animabilis RS File Encryption 1.3
Need a military grade file encryption solution? Would you like to delete (shred) files and be 100% sure they can't be "undeleted"? Now about protecting data stored with removable drives? RS File Encryption does all that and more!

---
30) Anti Boss Key - Hide windows quickly. Hide your screen! 3.91
Anti Boss Key - Hide windows ( applications )

---

31) AQL Secure Password Generator 2.00
Create random passwords that are highly secure and extremely difficult to guess

---
32) Armor Tools 4.5
Suite of tools which ensure your privacy and keep sensitive information secure.

---
33) Armor2net Personal Firewall 3.123
Personal firewall software protects your PC. stop pop-up,remove spyware

---
34) Arusoft Password Generator 2.1
Easy to use, small, powerful and fast generator of passwords.

---
35) Arusoft Password Recovery Plus 2.1
Multiple accelerating recovery of forgotten password.

---
36) Ashampoo Firewall PRO 1.11
Big protection power. Small system load.

---
37) Asterisk Password Recovery 1.1
Uncovers passwords hidden with asterisk and display Protected Storage content.

---
38) AsteRisks 1.00
Erase all stored passwords from cache memory of your Internet Explorer

---
39) AutoKrypt 7.01
Automated Encryption and decryption software. Automatically encrypt and decrypt.

---
40) B-Calm Privacy v1.0.40
Instantly hide your applications from prying eyes and then recover them later!

---
41) Backdoor Guard 1.0.0.2
BackdoorGuard Award-Winning Firewall Software

---
42) BartWare Personal Firewall 1.3.4
BartWare Personal Firewall is a freeware firewall that blocks most traffic

---
43) Blue Micro USB Flash Drive Logon 1.0
Blue Micro USB Flash Drive turns your existing flash drive into a key.

---
44) CamShot Monitoring Software 2.2.0
Turn your WebCam into a monitoring system.

---
45) CD Secure 2.00
Prevents pirated copying and unapproved accessing your sensitive files in CD.

---
46) CDRom Watchdog 1.22
You can master the usage of the CD-ROM by CDRom Watchdog to make the CD-ROM your loyal subordinate, all the disks or CD-ROM unaccepted by you are forbidden to use

---
47) Chaos Mash 1.0.001
Encrypt any sort of file on your computer

---
48)
Chaos MD5 1.0
---
49) CHAOS' Doors 3.7
Comprehensive privacy tools including file/folder encryption, e-mail encryption, file/folder shredder

---
50) CiphersCrypers 1.2
It is a wonderful frendly multiplatform program purposed for encrypting any files with many kinds of cryptographic algoritms likeDES, AES, Blowfish, RC2, RC4 and password based encryption - PBEWithMD5AndDES

---