Internet - Others Programs at BlueSofts.com listed after downloads number
Browse Pages: 1 [2] [3] [4] [5] [6] [7]
Order programs after downloads or name or date
1) Satellite Tv For Pc Elite 2007
SATELLITE TV for PC - Over 3000 LIVE worldwide channels on your PC. 100% Legal

---
2) hopster 1.0.16
Bypass firewalls to chat with your friends and download files.

---
3) Yahoo Auto Answer System 1
A Answering machine for your yahoo instant messenger

---
4) Microsoft SMS Sender 1.0
SMS Sender is an add-on for Microsoft Windows XP that will create and send SMS

---
5) Globe 7 4.0.0.0
Globe7 is a SIP based VoIP soft phone integrating SIP stack, Java and JMF.

---
6) SMSManager 2.2
This is the latest version 2

---
7) X-Ray Image Maker V 1.0
Create Interactive Xray Images for the Web with this MultiMedia Development Tool

---
8) SecureCRT 5.2
Rock-solid terminal emulator for encrypted Secure Shell (SSH1 & SSH2) sessions

---
9) ! Fanta Morph 1.0
morphing software for the creation of fantastic image morphing pictures and soph

---
10) Etymonix MPEG-2 Video Codec 1.10
Professional-quality MPEG-2 I-frame software-only Video for Windows codec.

---
11) Tradetouch SkypeKey Driver 3.0
Analog phone adapter for dialing Skype with analog wired/cordless or DECT line!

---
12) EnVision Publisher for Windows 3.0
Unique shareware Desktop Publishing.

---
13) SecureFX 4.0
Secure file transfer client with advanced automation and configuration options.

---
14) fileXfer 1.5
Secure Remote machine access for files,registry,processes,services. Scriptable

---
15) Rooster 0.95
Rooster – unique stand-alone adult entertainment search engine and browser

---
16) EU Comm SMS 1.1
User friendly and powerful SMS messaging application with global coverage

---
17) Magic Translator 4.00
Online translate word, sentence, passage, Web up to 11 languages.

---
18) Web Resume Writer 5.0
Web Resume Writer is a powerful resume creation application for Windows 95/98/NT

---
19) SMS and Pager Toolkit 4.1
SMS ActiveX control to send and receive SMS. Support for GSM Modems/Phone, SMPP.

---
20) Remote Desktop for Mobiles 2.0
Easy-to-use, reliable and secure remote access software for mobile phones.

---
21) SWiSHmax 3.0
Create professional Flash animations quickly and easily

---
22) Net Profile Switch 4.72
Switch your laptop between multiple network configurations (profiles).

---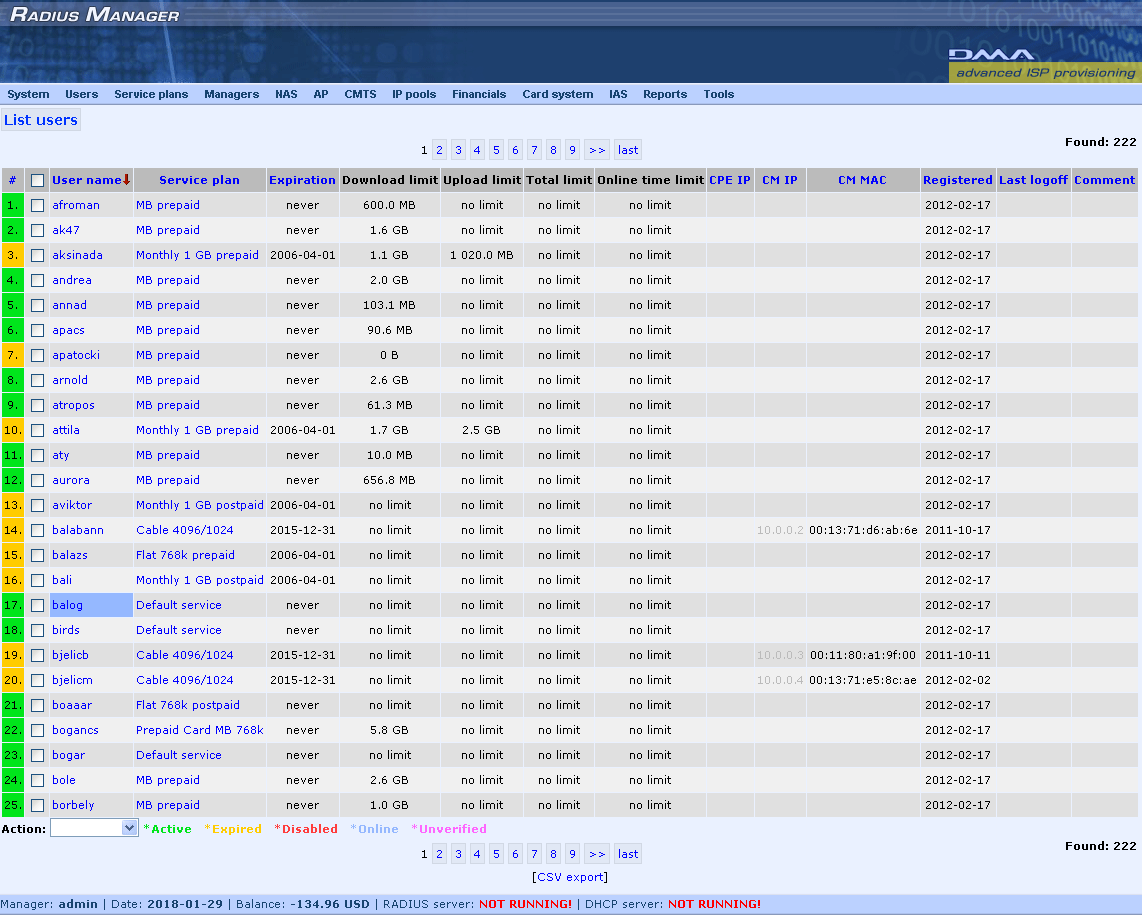 23) Radius Manager 1.1.5
Easy-to-use billing system for Mikrotik Routers and HotSpot systems.

---
24) Amiga Explorer 2005
Connect an Amiga with one or more PCs. Supports serial and TCP/IP connections.

---
25) iSpQ VideoChat MAC 7.2.151
iSpQ VideoChat lets you share web cam images & live video with people worldwide.

---
26) SNMPTest 1.02
Query and monitor any SNMP-compatible device

---
27) CRT 5.2
Rock-solid terminal emulator with tabbed UI and advanced session management

---
28) VoIPerized 2.1
VoIPerized enables you to make free audio calls to other people.

---
29) Nova Fonts PS 1.31B
Rubicon Nova sans serif font, accurate and well hinted.

---
30) " Become A Global Home Business Pro -eBook! V.1
18 Chapter Brand New eBook on Homebusiness, Freelance Options, Online Marketing!

---
31) Midi2Ringtone 1.1.1
Converts single channel midi files to Nokia Composer or RTTL ringtone format

---
32) Virtual Support Office© 1.2
Web based Help Desk System.

---
33) DailyLoop! 1.3
Tray-based program that puts all your favorite sites just one click away.

---
34) Iban 2.75.0006
Iban the internet analyzing software that solves problems from your desk.

---
35) Popup Eliminator 1.0
Stop Popups dead in their tracks.

---
36) ICQ Fixer 1.03
Fix a ICQ bug for NetMeeting users and add NAT support

---
37) BadBlue Excel Web Spreadsheet Collaboration Server 2.62
Share Excel files, photos, music, and more with the easiest web server: BadBlue

---
38) MoneyToys - Rent Vs. Buy Calculator applet 1.3
A rent vs. buy calculator applet which helps identify the best housing option.

---
39) WhoCalls 1.7.0
WhoCalls will use your modem to detect the CallerID

---
40) sharpVoice(tm) Client 6.0
Free PC-to-PC and inexpensive PC-to-Telephone calls

---
41) Nova Fonts 1.31B
Rubicon Nova sans serif font, accurate and well hinted.

---
42) dIRC 2.2.0.1
dIRC is an easy to learn IRC chat program enabling conversations with new people

---
43) Picture Patrol Officer X 1.2.1
Downloads thousands of free pictures from Usenet newsgroups, saving you time

---
44) ACX MailOut pro 9.8
MailOut can send personal text and HTML series emails and transmitting.

---
45) Bulk News 2006 3.0
Bulk Post to over 2000 newsgroups an hour with this Internet marketing tool.

---
46) Simple Internet Fax for Palm 3.3
SIF allows you to send messages to faxes, e-mail addresses, and phones

---
47) QuickSender 1.1
Simple SMS, Email, ICQ sender with skin grapfic interface.

---
48) Constructioner Light Edition 2.5
Site management tool to create powerful websites connected to databases

---
49) Webdata Pro 1.52
Manage MySQL tables, pics, design w/ a browser. Easy to admin w/o programming.

---
50) starmsg.com 1.01
Starmsg.com is a freeware that allows you to send text SMS messages from your PC

---