Business & Finance - Others Programs at BlueSofts.com listed after softs date
Browse Pages: 1 [2] [3] [4] [5] [6] [7] [8] [9] [10] [11]
Order programs after downloads or name or date

1) SQL Password 1.5.457
SQL Password is a password recovery tool for MS SQL Server and MSDE.

---
2) Text Files to MS Access Import, Export & Convert Software 7.0
Load text files (or csv files) to MS Access.

---
3) TAPIMaster 3.1
TAPIMaster is a Third Party CTI solution with SDK. Up to 4 clients freeware.

---
4) Travel Times for Outlook 1.0
Add-in to handle travel times in your Outlook calendar automatically.

---
5) Simply Postcode Lookup 2.00.03
Simply Postcode Address lookup - Pay as you go, install in minutes

---
6) XLCalendar 1.2.0
XLCalendar is a calendar generator for Microsoft Excel

---
7) Mexico Postal Code Database (Premium Edition) November 2006
Mexican Postal Codes Database Subscription in text, Excel and Access

---
8) Auction Alert 1.0.0
Free eBay monitoring software automates searches and gives instant notification.

---
9) Genius Connect - Calendar 3.0.1.0
Connect Outlook or Exhcnage calendar to any SQL Database.

---
10) BlueSmart 1.08
Software package for managing small schools and studios

---
11) MS Powerpoint Find and Replace In Multiple Presentations Software 7.0
Search and replace text in many MS Powerpoint presentations.

---
12) DBF to DBF 1.50
Allows you to convert your dbf files from one format to another.

---
13) MS Access Merge (Combine) Fields Into One Software 7.0
Join two or more fields (columns) into one in Microsoft Access.

---
14) DBF to HTML 1.50
Allows you to convert your dbf files to HTML pages.

---
15) MS Access Remove (Delete, Replace) Text & Characters From Fields Software 7.0
Quickly clear out text and letters from fields in Access using numerous methods.

---
16) DBF to MDB (Access) 1.50
Allows you to convert your dbf files to MDB (Microsoft Access) format.

---
17) Shipper Starter Kit 1.3.6
Automate DHL, FedEx, UPS and USPS shipment processing for BVC2004 and StoreFront

---
18) Juicy Business Cards 1.20
Design your own business card in a few easy steps.

---
19) DBF to CSV 1.50
Allows you to convert your dbf files to csv (comma-separated value) format.

---
20) GasDandy 1.2.9
Gas Mileage Calculator, Print Reports, create graphs and auto maintenance

---
21) Anniversaries Reminder 3.21
Never forget an anniversary again!!!

---
22) MySQL Delete (Remove) Duplicate Entries Software 7.0
Search and delete (remove) duplicate data (values, records, rows and numbers).

---
23) DeskAlerts - Desktop Alert Software 1.0.3
Send your desktop alert news to customer

---
24) MS SQL Server Search & Extract Data Software 7.0
Find and extract fields, text, characters in MS SQL Server databases.

---
25) LifeLog 1.0
LifeLog is powerful tool to help you keep a detailed time log.

---
26) SmartBOL Bill of Lading Software 5.2
Bill of Lading Software

---
27) Sync Database MySQL Edition 2.5
Sync Database is an easy solution to compare and sync MySQL databases.

---
28) AutoCenter 3.0.3
AutoCenter is a software for managing all your vehicles: personal or company'

---
29) Toad for MySQL 2.0.1
Toad for MySQL provides a development environment that improves productivity

---
30) i.Xchange SE-A02 v2.0
View / Edit the data inside your mobile. Upload / Download Multimedia files.

---
31) Paraben's Flow Charter 5.07
Create professional flow charts & diagrams with ease.

---
32) Fast Form Filler 2.0.0
Click on a stored phrase, then on Web or program input box to input the phrase.

---
33) Date Calculator 7.1
Calculate days between dates, date N days from date, etc.

---
34) Java/J2EE Skill Evaluation Lab 1.0
Assess and screen the candidates for employment with Skill Evaluation Lab

---
35) Conversions+ 2.0.2.10085
Converts over 600 different measurements in seven categories with web-updates.

---

36) DB Commander 2000 Pro 6.6.0
Manipulate any 2 databases at the same time, transfer tables or records across

---
37) QK BarCode Generator 1.0.0
QK BarCode Generator - generate barcode easily and quickly

---
38) Convert DOC to PDF For Word 3.00
Convert DOC to PDF For Word convert DOC document to PDF file.

---
39) Convert XLS to PDF For Excel 3.00
Convert XLS to PDF For Excel convert Excel document to PDF file.

---
40) WorkoutGenerator 3.0
WorkoutGenerator will create a random workout based on user input.

---
41) ITIL Toolkits 2.3
The Information Technology Infrastructure Library (ITIL) is a customizable frame

---
42) Video to Audio Converter 2.00
extract audio from AVI, WMV, MPEG, ASF to MP3 RM WAV WMA and OGG files.

---
43) Boachsoft SmartManager 1.06
Boachsoft SmartManager is a video rental store software [video store software]

---
44) hvimports 1.5
Golbal Salt Exporter and importer

---
45) DocuMaker's TypoTest 1.0
DocuMaker's TypoTest measures your typing speed in words per minute.

---
46) Small Library Organizer Pro 1.5
Easily manage library collections, member/patron data, and circulation data.

---
47) SoftHype 1.0
Software Submission Tool. Fully functional Freeware.

---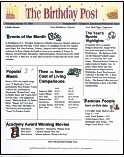 48) News of the Past - Birthday Post 2006
What happened on the day you were born? Every date 1880 to 2006, Easy-To-Use!

---
49) CardWare-Professional Birthday Post 2006
For a brilliant, professional-level solution to client birthday greetings.

---
50) MGCS 2006
MGCS 2006 now includes a Desktop application, web interface and Pocket PC Applet

---