Business & Finance - Applications Programs at BlueSofts.com listed after downloads number
Browse Pages: [1] [2] [3] [4] [5] [6] [7] [8] [9] [10] [11] 12 [13] [14] [15] [16] [17] [18]
Order programs after downloads or name or date
551) ABWelcome 0.1.0
ABWelcome - the program for fun! This software lets your computer more freindly

---
552) Print Studio 2.0
The complete business solution for all your labeling and printing needs.

---
553) Internet Million Dollars 4.0
Internet Million Dollars is a money generating software.

---
554) Magtax 2004
Import QuickBooks Data. Print 1099 and W2 Forms on plain paper and disk.

---
555) statlook 2.1
Work time control, software and web usage tracking, software/hardware management

---
556) Pro Print Merge Numbering Software 3
Pro Print Numbering 3.0 is an extremely versatile Windows program that allows yo

---
557) Easy POS 4 BUSINESS Point of Sale 5.16
Easy to setup, and very easy to learn POS system with powerful features.

---
558) Loftware Label Manager 7.2
Loftware?s printing software platforms are designed for maximum flexibility and maintainability

---
559) QuickStore 2005 Standard Edition
QuickStore 2005 SE is complete Inventory Control, Accounting, Customer control, and Point of Sale Software.

---
560) PDF Script Pilot 1.26
Create web forms and scripts for generation of PDF documents on your site

---
561) OurAgenda Calendar event manager(Palm OS) 1.0
Easy to calendar event manager that supports multiple profiles.

---
562) TBS Easy Fixed Assets 5.50
Tracks Fixed Assets and Depreciation.

---
563) VenueBench 5.3
Create raffle tickets and event tickets, and other forms combining text, graphics and sequential numbering

---
564) WinFax Pro Automator for Word 2.0
The One-Click Faxing Solution for WinFax and Word

---
565) Concept 2005.0.1941.385
Restaurant Management Software with Reservation, Booking, Customer and Table Management for your restaurant from Microcafe Software

---
566) SPR POS (Super Packed Restaurant POS System) 3.01
A feature rich and affordable restaurant, bar & delivery point-of-sale (POS) software product capable of handling your front and back operational functions

---
567) 602Pro PRINT PACK 2002
602Pro PRINT PACK is a low-cost, easy-to-use PDF conversion tool, which perfectly suites the needs of any Windows user who is looking for fast, one click document conversion.

---

568) Bar Code 128 3.8
Print your own bar code 128 with subsets A, B, and C, pluse EAN and UCC

---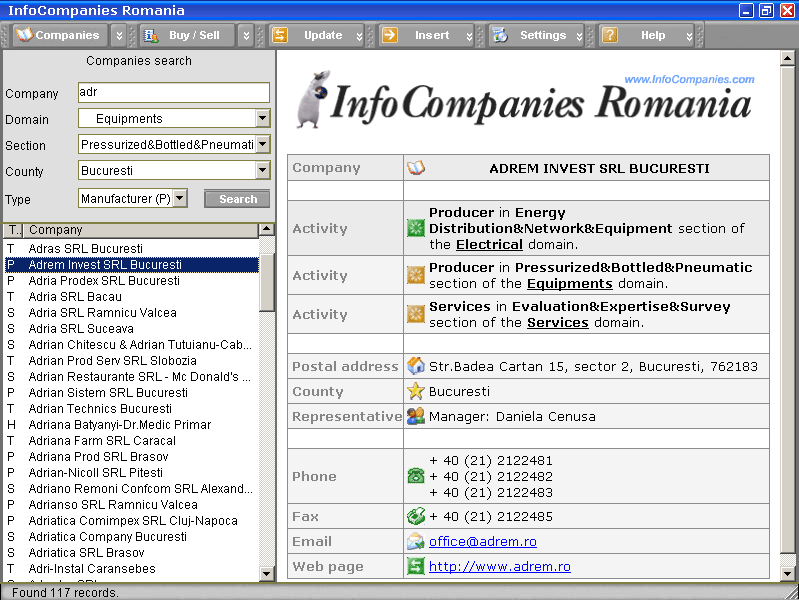 569) InfoCompanies Romania 1.0
The Romanian Yellow Pages-companie's contact details and business opportunities.

---
570) Active Phone Server 9.18
Speaking answering machine, Caller ID, Email Checker, Autodialer and more!

---
571) AutoPlay me for PDF 2.01
Create AutoPlay PDF CDs easily. Simply drag and drop and press Burn to CD

---
572) e-Restaurant 1.0.0004
Cut time, reduce mistakes and improve the overall efficiency of your restaurant with this customer & reservation package

---
573) ManageEngine ServiceDesk Plus 4.0
Complete HelpDesk & Asset Management software with SLA & purchase management.

---
574) SmartDraw 6.50
SmartDraw is the complete drawing tool for flowcharts, org charts, business presentations, networks, floorplans and more with SmartDraw

---
575) GSA JobFinder 2.07
Program designed to search job tendering of new jobs for your business.

---
576) fax@NET Personal 2.5
Send and receive at your workingplace with ISDN/modem. Send with printerdriver

---
577) Xcelsius|XL Professional 4.0
Create interactive dashboards, presentations, charts, and more with Xcelsius.

---
578) Tradingbasis - Tools for Amibroker 3.26
The Tools are designed to improve your trading performance significantly.

---
579) Pastor's Study
The Pastor's Study is a productivity tool to help a pastor organize his daily tasks.

---
580) Eficium TeleFactura 2.00
Eficium TeleFactura, the definitive billing program for Call + Access Providers

---
581) MembDataPLUS 3.5
Membership data and mailings for a local or a national association.

---
582) PaneCutter 1.4
2D cutting plan design and cutting optimization for automatic cutting plan design for manufacturers of furniture and other products made from sheet materials (wood, metal, glass, etc

---
583) egrade 3.5.0
Online surveys, assessments and rating systems in any language

---
584) ABBYY FineReader 8 Professional Edition 8
Ideal optical character recognition (OCR) application

---
585) Horizon CRM 1.50.257
Powerful CRM with links to Sage & Quickbooks

---
586) Biometric Employee Punch Clock 2.0
A powerful Time and Attendance solution using fingeprint authentication.

---
587) SERglobalBrain Personal Edition 1.6.3
SERglobalBrain transforms data into relevant, usable knowledge

---
588) ShopInvo 3.80
Auto repair shop Point of Sale , Inventory, history, parts and labor guide, more

---
589) ! Free Classified Ads and Auction Post 1.02
Post Free Classified Ads and Auction to +28,171 sites in a single ad.

---
590) ClinicGate Advanced 2006
Medical and Dental CRM Software Software for a successful running practice

---
591) 2004 kManager - Knowledge Management System 2004
Knowledge Management System and Sarbanes Oxley Software

---
592) 3.5 Inch Disk Label Creator for Word 3.2
Easily Create Beautiful, Full-Color, Disk Labels in Minutes

---
593) BarCodLabGen 1.29
Generate and print barcodes . labels printing with up to 3 barcodes

---
594) DEKSI HelpDesk 2.1
DEKSI HelpDesk is a powerful and feature rich web based help desk and customer support system that provides organizations with a helpdesk, inclusive discussion forum, and the research capabilities of web surveys

---
595) Advanced Phone Recorder 1.7.5
Record your phone calls to your pc as compressed WAV files

---
596) My CharMap 1.1
CharMap utility with re-sizeable character display and zoom viewer.

---
597) PDF Content Split Batch 1.18
split on text information within many PDF's

---
598) Stock List 1.2 R5
Free utility to create item lists for WaverlyStreet Purchase Order Program

---
599) VMPro Visitor Management Pro 2.0
VMPro 2.0 turnkey system to manage visitors;print badges, reports, easy to use!

---
600) Personnel Organizer Deluxe 2.3
Personnel, Employee manager software for Windows.

---