System Utilities - Backup & Restore Programs at BlueSofts.com listed after downloads number
Browse Pages: 1 [2] [3] [4] [5] [6] [7] [8] [9]
Order programs after downloads or name or date
1) DVD Shrink 3.2.0.15
DVD Shrink is software to backup DVD disks.

---
2) Microsoft USB Flash Drive Manager (Standard) 1.0.0
Use this application to backup and restore presentation, pictures, songs and applications from and to USB Flash Drive devices and take them with you

---
3) FinalData Enterprise Network 2.0
Final Data is a world-class Data Recovery Utility tool that recovers quickly and effectively files that may have been accidentally deleted or erased, damaged or emptied from the Recycle Bin.

---
4) XP Recovery CD Maker 1.01.09
makes a BartPE CD with tools on it for recovering from a WinXP Crash

---
5) Smart Fat Recovery 3.2
Smart FAT Recovery is a data recovery tool for Windows operating system!

---
6) Free Keylogger King 1.3
This free program logs everything you type. You will never lose a password!

---
7) Power Data Recovery - Volume Recovery 2.2
Power Data Recovery - Volume Recovery Module Recovery lost data

---
8) Advanced Zip Repair 1.8
A powerful tool to repair corrupted Zip files and self-extracting(SFX) files.

---
9) BitStorm CD & DVD Burner 2.15.1
BitStorm CD & DVD Burner is a CD/DVD burner

---
10) Smart NTFS Recovery 3.2
Smart NTFS Recovery is a data recovery tool for Windows operating system!

---
11) WinDriver Ghost Enterprise Edition 2.02
Backup, restore and update all device drivers currently on your system

---
12) WinDriver Ghost 2.02
Backup, restore and update all device drivers currently on your system

---
13) Windows Deleted Data Recovery Software 2.0.1.5
Windows FAT NTFS deleted data recovery software restore formatted partition

---
14) FIBS Firebird-Interbase Backup Scheduler 1.0.6
FIBS is a light, solid and fast scheduler for Firebird and Interbase databases

---
15) EZ Outlook Backup Pro 2.0
Backup your Outlook or Outlook Express mail and address book to CD/DVD.

---
16) e-Backup 1.42
Backup and restore and transfer Outlook Express data, favorites and address book

---
17) Driver Genius Professional Edition 2005 6.0.1882
Powerful Windows drivers backup tool for Windows 98/ME/2000/XP/2003

---
18) Partition Table Doctor 3.5
Only real software for hard disk data recovery and partition recovery.

---
19) Drive Snapshot 1.37
Drive Snapshot - Disk Image Backup for WindowsNT/2000/XP/2003

---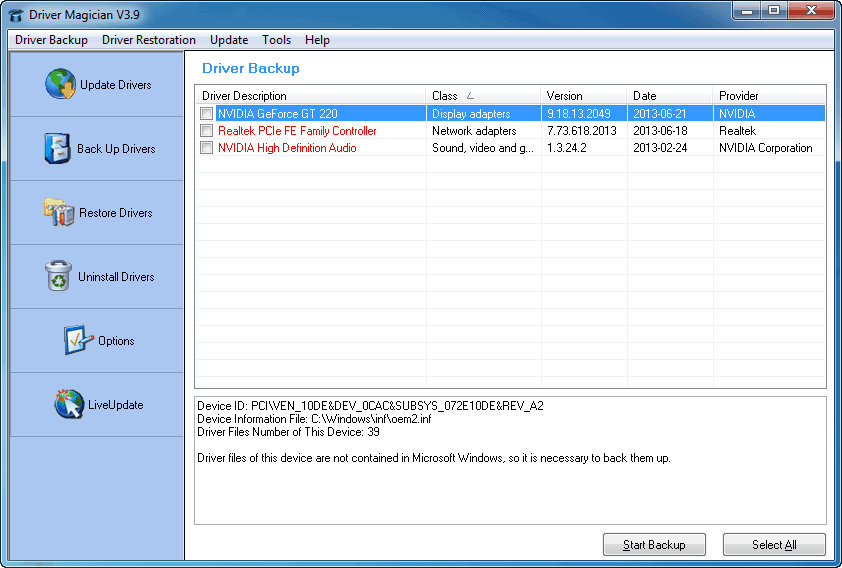 20) Driver Magician 2.5
device driver backup, restoration and update tool

---
21) Final Data Enterprise 1.0
Data Recovery Utility tool

---
22) Paragon Drive Backup (Personal Edition) 7.0
Drive Backup creates the backup of entire hard disk or a part of it.

---
23) EZ IncrediMail Backup 1.21
EZ IncrediMail Backup makes it easy to backup your mail and address book to a ZIP archive and works with the Windows Task Scheduler to provide an automated backup solution

---
24) KLS Backup 2005 PE 1.5.2
KLS Backup 2005 PE (Personal Edition) is a powerfull backup program that allows you to create backup archives of all your important files and settings

---
25) Gearbox 1.0
Your data is important - ensuring that it's safe and shouldn't be hard.

---
26) SynchronEX Backup & FTP 2.14
File and directory synchronizer, Backup, ZIP, FTP, finding duplicate files

---
27) ERS 9x, Emergency Recovery System 9x 11.45
Win 95/98/ME Recover gracefully from a system crash with ERS.

---
28) TK8 Backup 3.0.4
Backup your data, emails and settings. With scheduler, CD, DVD and FTP support.

---
29) Daily Backup 2.08 rel b
as soon as you create a file it gets archived; 1click restoration

---
30) WinSave Backup 4.0.05.007
create automatic backups for your data

---
31) Easy Backup for Outlook Express 2.02
Backup restore and move your Outlook Express's identities, messages and so on.

---
32) FileRecovery for CompactFlash 2.1
FileRecovery for Compact Flash undelete lost data from Compact Flash cards used by digital cameras or other devices

---
33) CleverCell Phone Manager 1.2
CleverCell Phone Manager - logging, multimedia and synchronization tool.

---
34) MoneyRecovery 1.0.421
MoneyRecovery is a data recovery program for corrupted Microsoft Money files.

---
35) SQL Server Backup 5.10
Backup and restore Microsoft SQL Server database to a local or network drive.

---
36) DVDCloner II
Easy To Copy DVDs ! Fool proof. Backup Complete DVDs with just one click !

---
37) AutoBackup 1.0.110805
Real-time backup solution

---
38) Universal File Utility 1.0.2
Universal File Utility is a professional program product that allows making file operations more simple and handy and automating of recurring processes

---
39) CDDVDWorker 4.2
PBurn Easy Burning CD/DVD Worker Studio is a burning application tool

---
40) WinRescue NT 2.08.28
Four tools in one to protect against crashes and data loss. Be prepared.

---
41) ABF Outlook Backup 2.89
ABF Outlook Backup is a backup and synchronization tool for the MS Outlook.

---
42) RiteRecovery 1.0.0638
RiteRecovery retrieves files from corrupted media (hard drives, floppies, CDs)

---
43) All Image 1.1
Create image files of any disks and back (USB Flash, Floppy, Hard Drives, etc)

---
44) FlexibleSoft Quick Backup 1.1
FQB is a unique program for backing up and restoring data in a quick way.

---
45) ABC Backup 2.1
Make backups as easy as A-B-C !

---
46) Backup To Neighbor 1.0
Backup To Neighbor is a peer-to-peer backup program

---
47) BackUp32 1.9
BackUp32 is intended for data archiving tasks, using compression algorithm compatible with ZIP and other popular archivers

---
48) Smart Flash Recovery 3.2
Smart Flash Recovery is a data recovery tool for Windows operating system!

---
49) Digital AudioRescue Professional 2.7
Recover lost audio files from any media. Supported MP3, WMA, OGG, WAV, etc.

---
50) Backup dD 1.2
Backup and restore with version control, schedule tasks, data compression, and data encryption (AES 128 bits)

---