System Utilities - Automation Tools Programs at BlueSofts.com listed after downloads number
Browse Pages: 1 [2]
Order programs after downloads or name or date

1) Jitbit Macro Recorder 3.59
Keyboard recorder, mouse movement recorder, player and editor.

---
2) WinExit 2
Fast shut down windows, shut down timer

---

3) RoboTask 2.3
RoboTask can automate any series of tasks you do on your computer.

---
4) QM Shutdown 1.50
Automate shutdown system at specfic time, and do something by schedule.

---

5) xStarter 1.84
Automate each and every process in your computer.

---
6) Type4Me Automatic Typing 1.1
Simple to use automatic typing for filling in forms or chat rooms. ONLY $9.95

---
7) AI Robot 2.0
An amazingly easy-to-use software that automates repetitive tasks quickly.

---
8) MultiBatcher 2.21
MultiBatcher is an automation and processing program.

---

9) Event Manager Professional 3.26
Automate app scheduling, backup, upload, download, system shutdown and more.

---
10) BytesRoad SafeLauncher 1.5
Run an application under the specified Windows account.

---
11) Fast Sync 1.1.0
Now it's very hard to lose important data! Use Fast Sync.

---
12) NetStaller 1.0.17
Install and uninstall software on network PCs easily. Remote deployment.

---
13) NestLib v16.0
NestLib® is a nesting software for optimizing material utilization while fitting two-dimensional shapes on a larger sheet.

---
14) PDF Bookmarks 2.0
Utility to automatically create/edit/delete PDF bookmarks.

---
15) Auto Window Manager 1.2
Resize programs automatically,transparent windows,minimize to tray,stay on top.

---
16) Desktop Macros 2.03
Leave all PC drudgery for Desktop Macros and gain bonus time for yourself.

---
17) SQ Notifier 1.0.6.8
Scheduled desktop notifications, clock adjustment, mail sending, web browsing

---
18) WiseType 2.0.1
WiseType is an efficient and smart utility for auto complete your typing.

---
19) PowrClik Suite v.2.7
Power saving, shutdown and automation software. Three utilities: PowrRun to launch any application with System credentials, PowrClik Lite and Pro to maintain power saving and shut down functions of your system ( plus additional functions concerning the matter). Execution: immediate by one click or by command line, scheduled by timer or by event (several thousands of possible events), automated via script. Support of MS Windows scripts (VBScript, JScript, etc.). Main functions: enter computer on standby, wake up from standby, enter computer into hibernation, log off Windows session, restart computer, power off computer. Additional functions: run screen saver, lock computer, hang up modem connection, run Task Scheduler, run file, play sound on alarm, measure performance. Preventive functions: disable screen saver, prevent suspend mode activation, prevent Windows shut down. And much more ....

---
20) Macro Express 3.5e
Create macros to automate most common tasks!

---
21) Heated Keyboard 1.0
Hot key manager for Windows

---
22) RSHUT PRO 2.8
Advanced Internet Computer Power Management Software for remote Administration.

---
23) AutoDialogs 2.3 SR2
Automatically insert folders into your dialog boxes by a system tray menu.

---
24) Optitask 2.0.4
Automate even the most complex business processes in no time.

---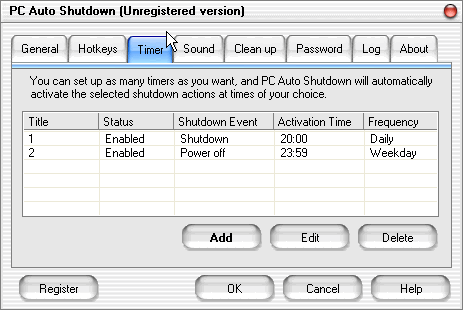 25) PC Auto Shutdown 2.0
auto shutdown,power off, reboot, hibernate or suspend computers at schedule time

---
26) HSLAB Shutdown Folder 1.8.18
Program launches applications just before Windows shuts down.

---
27) Ultra PDF Tool 2.0
Utility to create and edit PDF files.

---
28) PCchat 0.165
Chat with your PC! Tell him what to do! Linux like console!

---
29) WinBatch 2006c
WinBatch is scripting for Windows. Scripts automate all aspects of PC operation.

---
30) Symantec LiveUpdate
LiveUpdate is the Symantec technology that permits an installed Symantec product to connect to a Symantec server over the Internet to check for program and other updates such as virus definitions and URL lists.

---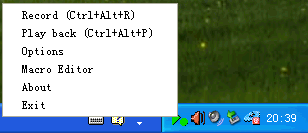 31) Easy Macro Recorder 2.1
record what you operate and create a replayable script

---
32) NestLib Latest Ver
NestLib® is a nesting software for optimizing material utilization while fitting two-dimensional shapes on a larger sheet. NestLib® incorporates several features which result in significant material saving. NestLib® is one of the fastest and most featured automatic true shape nesting library available in the industry.

---
33) Smack 1.06
Record keystrokes and mouse events for playbacking later

---
34) Fast Reset 1.1.2
Do you reset device frequently? Make your resetting fast!

---
35) syncNETV8 8.1.1937
syncNET8 ist eine auf dem .NET-Framework 1.1 basierende BackUp-Software

---
36) CD&DVD Organizer 2.1beta
note lending info about CD/DVDs

---
37) Energy Spy 1.71
Energy Spy easy helps to control power functions of your computer.

---
38) Hotkeycontrol 5.3
Award winning solution to create keyboard shortcuts for routine tasks

---
39) PTFB Pro 3.3
A macro recorder and mouse auto clicker

---
40) uForte OPC Historian 1.0
"UForte OPC Historian" designed to archive data from OPC DA servers. It can be f

---
41) MultiSet 3.0
Create a standalone software installation CD!

---
42) KeyText 3.01
Keyboard macro program with multiple clipboard and Windows automation features.

---
43) MacroMaker
MacroMaker allows the user to build complex macro commands and keystroke/mouse recordings, that can be assigned to hotkeys or run on a schedule.

---
44) ByteWedge 2.0
Acquire data from electronic devices through an RS232 interface

---

45) ShortKeys Lite 2.1d
Type a few characters and ShortKeys Lite will replace them. Free.

---
46) pcGuardIT Client Edition 1.0.2206.39118
pcGuardIT Client Edition monitors the most important server information for you

---

47) Macro Scheduler 8.1
Automate any Windows task. Build, record, schedule and compile macros.

---
48) Anasoft Helena 1.0.6
Helena is a system level instruction engine which can increase your productivity

---
49) Install Unattended Enterprise 4.5
Create a stand-alone automatic software installation CD!

---
50) HSLAB Force Down 2.5.22
Fast and Smart Shutdown Windows by different ways.

---