Audio & Mp3 - Plug-Ins Programs at BlueSofts.com listed after downloads number
Order programs after downloads or name or date
1) FASOFT Compressor 1.1
FASoft Compressor is a Compressor/Expander/Noise gate DirectX plug-in

---
2) AMPHIOTIK ENHANCER PR [VST] 1.02
HRTF based 3D Audio system, which processes standard stereo audio signals

---
3) Stereoizer 2.2
Stereoizer is a VST plugin designed to add extra stereo width to your sounds

---
4) FASOFT ParEQ 1.3
FASoft ParEQ is a 20 bands DirectX plug-in equalizer

---
5) Rebontek Surround Plugin 5.3
One of the best consumer sound enhancement/improvement/dsp effects for music

---
6) AMPHIOTIK ENHANCER LT [Winamp] 1.11
HRTF based 3D Audio system, which processes standard stereo audio signals

---
7) AMPHIOTIK ENHANCER ST [VST] 1.20
HRTF based 3D Audio system, which processes standard stereo audio signals

---
8) AMPHIOTIK ENHANCER ST [Winamp] 1.20
HRTF based 3D Audio system, which processes standard stereo audio signals

---
9) IceVerb 2.3
IceVerb 3-D Reverb for adding depth to your mixes.

---
10) iNetFormFiller Free 3.5.14
Auto-fills web-forms by a single click. Records and plays clicks on web-links.

---
11) Ambient Keys 1.0
Ambient Keys is a polyphonic VST instrument plugin, with an ambient sound.

---
12) Extreme Punch 2.3
Warm up your digital recordings with Extreme Punch Plugin

---
13) XSound DSP Plugin for Winamp 2, 3 and 5 7.3
Download 3D Surround DSP Plugin for winamp. Dramatically changes sound quality.

---
14) MiniLyrics 4.3.2175
A synchronized lyrics viewer for Winamp, WMP, iTunes, RealPlayer, foobar etc.

---
15) Sound System Modeler 1.0
monitor your audio on a variety of sounds system without leaving your audio app

---
16) Creatures Of Darkness - MorphVOX Add-on 1.0
Sound Evil with Creatures of Darkness Add-On for MorphVOX

---
17) CommandBurner 3.3.1
A CD/DVD burning utility that offers command line and script execution.

---
18) AMPHIOTIK ENHANCER PR [Winamp] 1.02
HRTF based 3D Audio system, which processes standard stereo audio signals

---
19) GoldLeo MP3 Tag Editor 4.1
GoldLeo MP3 Tag Editor is an easy to use MP3 tag editor and mp3 renamer.

---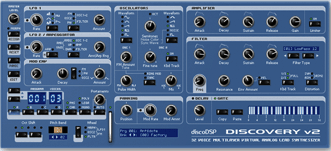 20) Discovery 2.6
Discovery is a synthesizer inspired by Clavia's Nord Lead for VST hosts.

---
21) AsistanBAR 1.0
AsistanBAR Toolbar - You can easily surf, read RSS feeds, search on google

---
22) Lyrics Seeker Plug-Ins 2.1
Non-intrusive, automated lyric search while you listen to your song

---
23) Translator Fun Voices - MorphVOX Add-on 1.0
Translate your voice with comic noises - Add-on for MorphVOX Voice Changer

---
24)
DAFX Studio 1.0
---
25) MP3 Audio Splitter Joiner 1.10
mp3 audio splitter joiner supporting batch audio files split and joiner into one

---
26) RSS To Speech 1.1
This Google Desktop gadget downloads RSS feeds, speaks and shows them

---
27) ReadToMe 1.0
Have your web pages read aloud and the words neatly underlined as you read along

---
28) QuickKnife Toolbar for Firefox 1.0.1.9
The QuickKnife Toolbar allows you to search the QuickKnife site.

---
29) QuickKnife Toolbar 4.5.102.0
The QuickKnife Toolbar allows you to search the QuickKnife site.

---